Not every computer or laptop has the TPM chip (Trusted Platform Module) activated ex works, which is required for the installation of Windows 11. This chip is used to generate, store and protect encryption keys, which is essential for the new Microsoft operating system.
Accordingly, to upgrade to Windows 11, you must first activate this chip.
In our step-by-step tutorial, we would like to explain how you have to proceed step by step:
How to easily enable TPM via Windows 10 for your PC or laptop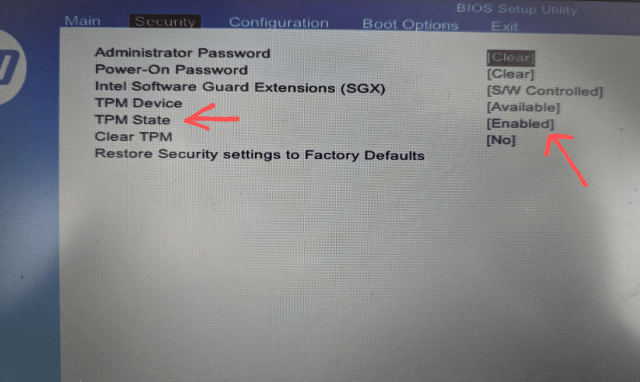 Follow the steps below to enable the Trusted Platform Module (TPM) on your computer via Windows 10 settings:
1. Open Windows settings and then navigate to "Update and Security".
2. Now go to "Recovery" and then "Advanced Startup".
3. Under the "Advanced Startup" section, select on the "Restart Now" button.
4. Your computer will now restart and then display the advanced options. Here, select "Troubleshooting" and then "Advanced options". 5.
5. Now navigate to "UEFI Firmware Settings" and then select the "Reboot" button.
6. The UEFI firmware settings will now open, which vary depending on the manufacturer and computer model. Now select the page with the security settings in the UEFO area.
7. Here you will find the option "Trusted Platform Module" (TPM) and press the Enter key.
8. Set the option to "Enabled" and press Enter.
9. Close the UEFI settings and save the setting you have just made. Then restart the PC.
The security module in your computer is now enabled and you can now start installing Windows 11, for example.
You now know how to easily activate the TPM module on your Windows computer.
{tag}link rel="alternate" href="https://www.spickipedia.com/index.php/windows-11/windows-11-wie-wird-das-tpm-modul-aktiviert-so-geht-s.html" hreflang="x-default" {/tag} {tag}link rel="alternate" href="https://www.spickipedia.com/index.php/windows-11/windows-11-wie-wird-das-tpm-modul-aktiviert-so-geht-s.html" hreflang="de" {/tag} {tag}link rel="alternate" href="https://www.spickipedia.com/en/computer/windows-11/windows-11-how-to-activate-the-tpm-module-heres-how" hreflang="en" {/tag} {tag}link rel="alternate" href="https://www.spickipedia.com/fr/ordinateur/windows-11/windows-11-comment-activer-le-module-tpm-voici-comment-proceder" hreflang="fr" {/tag} {tag}link rel="alternate" href="https://www.spickipedia.com/es/ordenador/windows-11/windows-11-como-activar-el-modulo-tpm-asi-es-como" hreflang="es" {/tag}