If you want to furnish your new apartment or house, then you may eventually come across the IKEA Pax wardrobe and perhaps even consider buying it.
The delivery of the Pax wardrobe is not quite cheap and so you might consider transporting it in your own car. This is also a realistic consideration, especially if you own a station wagon or a van.
We would like to inform you here briefly whether you can transport the IKEA Pax wardrobe in your own car.
IKEA Pax wardrobe - will it fit in my vehicle for transportation?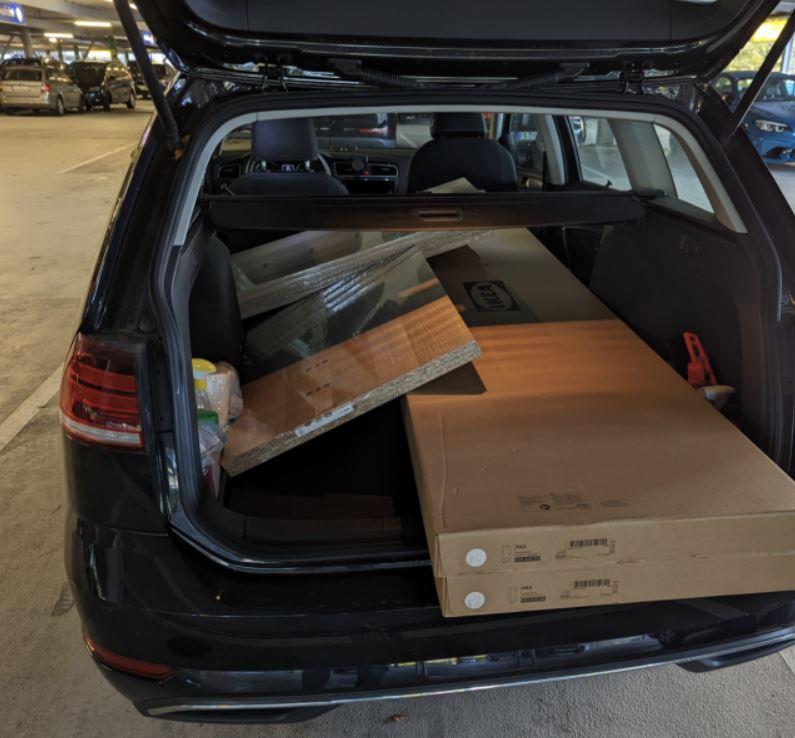 First of all, it depends on what dimensions you purchase with your Pax wardrobe. In our example below, we assume the largest possible dimensions: 236cm x 56cm x 100cm.
Of course, the Pax wardrobe is also packed in a cardboard box, which is why you have to add about 4 cm to the length and width.
Example vehicle: VW Golf Variant
For our example we used a VW Golf Variant. This has an insertion length of approx. 205 cm with the rear seat bench folded down and the passenger seat moved completely forward. The width is 60 cm. This means that when the Pax cabinet is loaded in the box, there is still approx. 30 cm over the loading edge. The cabinet is then nice and straight in the vehicle.
This can be seen well in the photo.
So the Pax wardrobe can be transported very well. You only have to fix the tailgate so that it does not fold up while driving. (Without fastening this would happen).
Smaller vehicles or sedans are not suitable, vans should generally have enough space.
Tips for loading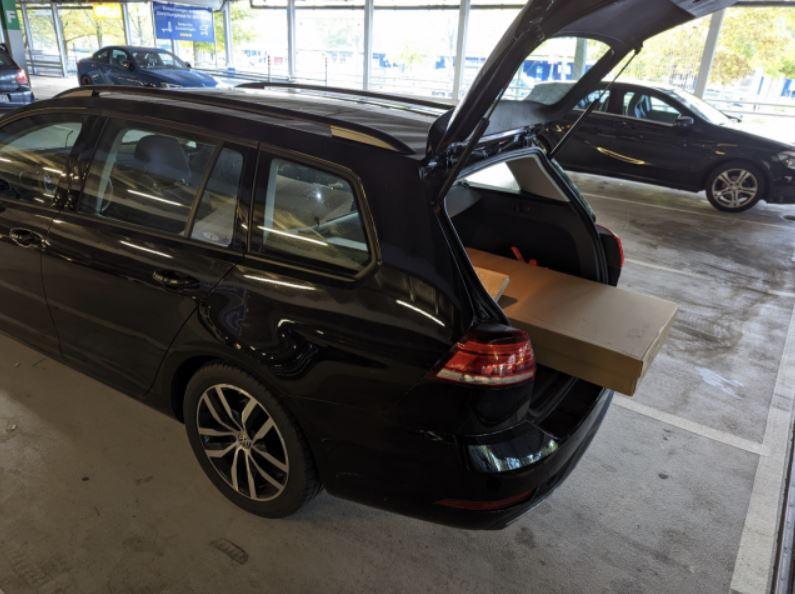 1. Take fastening with you for the tailgate.
2. Mark overhanging dimension with a high-visibility vest or pennant.
3. Go shopping in pairs - a Pax wardrobe weighs 40 kg.
We hope you enjoy transporting the Pax wardrobe and have fun with it at home.
{tag}link rel="alternate" href="https://www.spickipedia.com/index.php/mobilitat/ikea-pax-schrank-in-auto-transportieren-klappt-das.html" hreflang="x-default" {/tag} {tag}link rel="alternate" href="https://www.spickipedia.com/index.php/mobilitat/ikea-pax-schrank-in-auto-transportieren-klappt-das.html" hreflang="de" {/tag} {tag}link rel="alternate" href="https://www.spickipedia.com/en/gadgets/ikea-pax-wardrobe-transport-in-car-does-it-work" hreflang="en" {/tag} {tag}link rel="alternate" href="https://www.spickipedia.com/fr/gadgets/transporter-une-armoire-ikea-pax-dans-une-voiture-est-ce-possible" hreflang="fr" {/tag} {tag}link rel="alternate" href="https://www.spickipedia.com/es/gadgets/se-puede-transportar-el-armario-pax-de-ikea-en-un-coche" hreflang="es" {/tag}