If you are using the Chrome browser on your Android smartphone and have activated the incognito mode, you might ask yourself how you can deactivate it.
Because every time you open the Chrome browser, the incognito mode is displayed. In order to end this mode, we have summarized the necessary steps for you quickly and easily:
How to disable the incognito mode on Android in the Chrome browser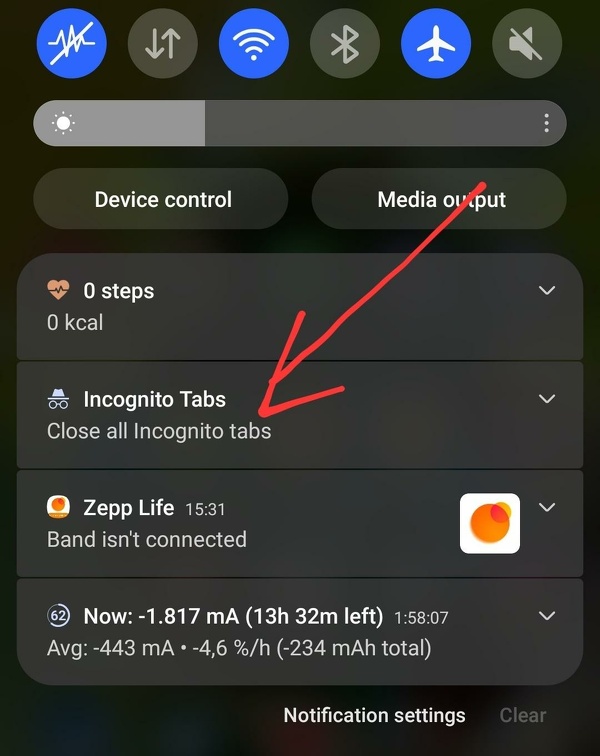 Deactivating the Chrome browser in incognito mode is very simple and straightforward by dragging the status bar from the top of the display with two fingers. You will now see your notifications, including:
Incognito Tabs - Close all incognito tabs.
Select the notification to close all incognito tabs in Chrome immediately.
Now when you open Chrome browser again, you will see your previously opened tabs and windows as you are used to. You have thus ended the incognito mode within the Chrome browser on your Android smartphone.
{tag}link rel="alternate" href="https://www.spickipedia.com/index.php/smartphones/chrome-inkognito-mode-deaktivieren-in-android.html" hreflang="x-default" {/tag} {tag}link rel="alternate" href="https://www.spickipedia.com/index.php/smartphones/chrome-inkognito-mode-deaktivieren-in-android.html" hreflang="de" {/tag} {tag}link rel="alternate" href="https://www.spickipedia.com/en/smartphones/chrome-how-to-disable-incognito-mode-in-android" hreflang="en" {/tag} {tag}link rel="alternate" href="https://www.spickipedia.com/fr/smartphones/google-chrome-desactiver-le-mode-incognito-de-android" hreflang="fr" {/tag} {tag}link rel="alternate" href="https://www.spickipedia.com/es/smartphones/chrome-desactivar-el-modo-incognito-en-android" hreflang="es" {/tag}