The Bluetooth standard is integrated in various products such as phones, speakers, tablets, media players, robotic systems, laptops and game consoles, as well as in some high-definition headsets, modems and hearing aids.
The higher the Bluetooth version of your device the more efficient and powerful connections to other Bluetooth devices will be. In addition, with a higher Bluetooth version you will have less interference.
Currently, there are 10 versions of the Bluetooth standard, with Bluetooth 5.0 being the most recent.
For example, Bluetooth 5.0 is twice as fast as 4.0 and supports longer distances. Bluetooth 5 is backwards compatible with Bluetooth 4, so newer products will work with older models.
If you now want to find out whether your smartphone supports the latest Bluetooth version, then we would like to explain to you here exactly how to proceed:
This is how you can quickly and conveniently find out the Bluetooth version of your smartphone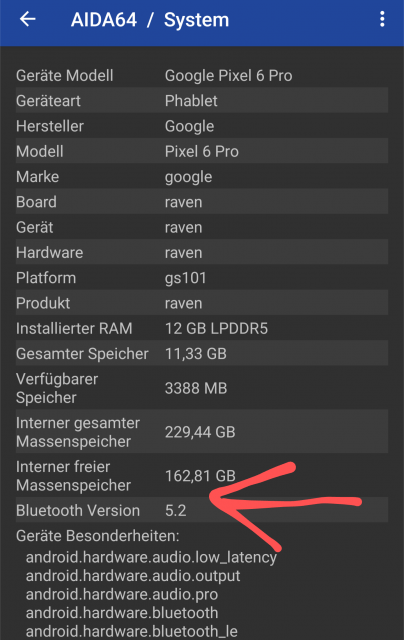 1. Download the free analysis app "AIDA64" from the Google Play Store.
2. Open the app and then navigate to "System".
3. Here you will now find the Bluetooth version of your smartphone under "Bluetooth".
Thus, you could easily determine which Bluetooth version your smartphone uses.
Can the Bluetooth version be updated?
Unfortunately, you cannot update the Bluetooth version of your phone to a newer version. This is because the Bluetooth interface is directly connected to the smartphone's hardware.
Now you know the procedure to find out which Bluetooth version your smartphone is using and if it is possible to update to a newer faster version.