The "Samsung Internet Browser" is factory-installed on Samsung smartphones, and many users have come to know and appreciate the enormous advantages of this browser. If you have now visited several websites with the browser, then page contents are temporarily stored in a cache, so that they can be loaded faster the next time the page is called up.
If you now want to delete this cache, for example to gain storage space, then we would like to explain to you here in detail and step by step how to proceed with a Samsung Galaxy smartphone:
How to clear the page cache in the Samsung Internet browser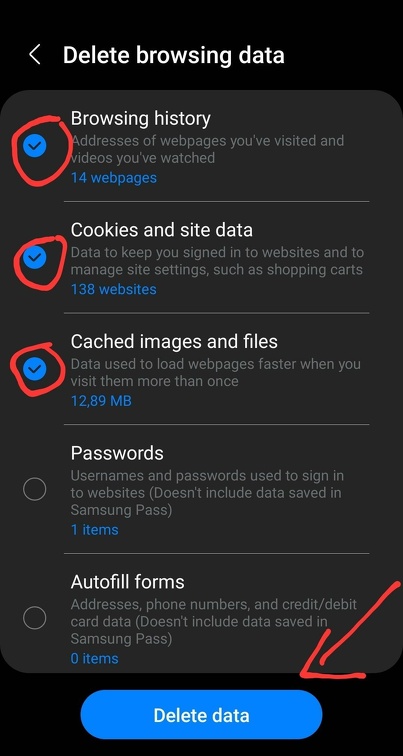 1. Open the Samsung Internet Browser
2. Now navigate to the bottom right on the three-bar icon and then Settings.
3. Now proceed to "Personal browser data" and from there click on "Clear browser data".
4. Now mark browsing history, cookies and site data, as well as cached images and files.
Click on the "Delete data" button to permanently remove the selected data from the Samsung Internet browser.
The browser will now retrieve the data from the website again the next time. In addition, it is no longer possible to track which web pages you have accessed in the Samsung Internet Browser.
You now know how to easily delete the pages data within Samsung Internet Browser.



{tag}link rel="alternate" href="https://www.spickipedia.com/index.php/samsung/samsung-internet-seiten-cache-loeschen-so-klappt-s.html hreflang=x-default" {/tag} {tag}link rel="alternate" href="https://www.spickipedia.com/index.php/samsung/samsung-internet-seiten-cache-loeschen-so-klappt-s.html hreflang="de" {/tag} {tag}link rel="alternate" href="https://www.spickipedia.com/en/smartphones/samsung/samsung-internet-browser-how-to-clear-the-cache-of-pages hreflang="en" {/tag} {tag}link rel="alternate" href="https://www.spickipedia.com/fr/smartphones/samsung/effacer-le-cache-des-pages-internet-de-samsung-comment-faire hreflang="fr" {/tag} {tag}link rel="alternate" href="https://www.spickipedia.com/es/smartphones/samsung/como-borrar-la-cache-de-las-paginas-de-internet-de-samsung hreflang="es" {/tag}