On some photos that you would like to send via WhatsApp, there are parts of the image that you would like to mask or pixelate out of focus. So it can be people, document content or other image content that you do not want to send in a great photo.
WhatsApp has a blur option that allows you to unsharp mask or pixelate all the parts of an image that you want. Below we want to show you step by step exactly how to do this:
How to unsharp mask or pixelate images in WhatsApp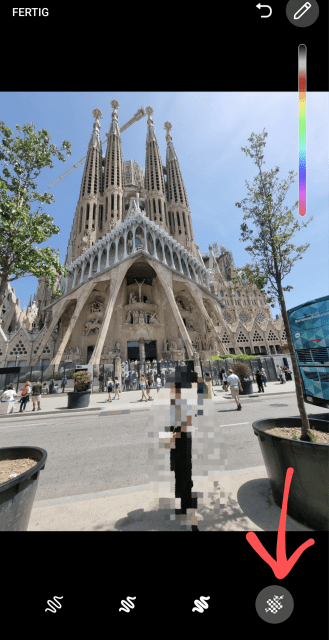 Start WhatsApp and then open a chat in which you want to send a picture that should be unsharp masked. Once you have selected your picture, tap on the pencil icon on the top right of your display.
You will now see several options at the top of the display to draw on the image. The last option on the right is the blur tool, which can be used to pixelate the image.
Now run your finger over the part of the image that you want to pixelate. If you think you've blurred masked too much, use the back arrow to erase the blur in parts. When you're done editing the image, tap the Done option at the top.
You now know how to use WhatsApp to easily blur mask or pixelate images you want to send.
{tag}link rel="alternate" href="https://www.spickipedia.com/index.php/smartphones/whatsapp-bilder-unscharf-maskieren-verpixeln-so-funktioniert-s.html" hreflang="x-default" {/tag} {tag}link rel="alternate" href="https://www.spickipedia.com/index.php/smartphones/whatsapp-bilder-unscharf-maskieren-verpixeln-so-funktioniert-s.html" hreflang="de" {/tag} {tag}link rel="alternate" href="https://www.spickipedia.com/en/smartphones/whatsapp-how-to-blur-pixelate-pictures-this-is-how-it-works" hreflang="en" {/tag} {tag}link rel="alternate" href="https://www.spickipedia.com/fr/smartphones/whatsapp-masquer-et-pixelliser-les-images-comment-ca-marche" hreflang="fr" {/tag} {tag}link rel="alternate" href="https://www.spickipedia.com/es/smartphones/whatsapp-desenfocar-y-pixelar-las-fotos-asi-funciona" hreflang="es" {/tag}